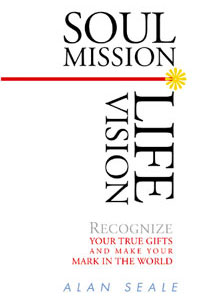 Having a clear sense of purpose is one of the greatest gifts we can give to ourselves and others. Knowing who we are, why we are here, and having a vision for how we can live that purpose is a significant key to a rewarding and fulfilling life.
In the early 2000s, Alan was one of the pioneers in talking about life purpose.
Soul Mission * Life Vision
 was one of the first books on this topic and helped open the door to this important life conversation.
Your soul mission is not so much something you do, but rather is the energy or passion that drives everything you do. Getting clear about your soul mission streamlines your energy and focus so that you can make the difference you feel called to make. Living your soul mission is the greatest gift you have to give to others and, at the same time, is the path of your greatest lessons. To identify your soul mission is to identify your greatest potential.
Through the Soul Mission * Life Vision book and various learning and coaching opportunities below, you can find the support and guidance you need to discover your soul mission and design your life around your own greatest purpose and potential.
Live Zoom 2-Day Workshop
Audio Course (Pre-recorded)
Book: Soul Mission * Life Vision
Soul Mission Discovery Coaching