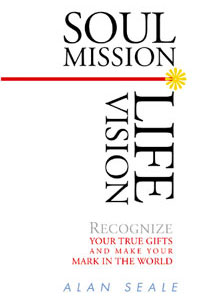 Having a clear sense of purpose is one of the greatest gifts we can give to ourselves and others. Knowing who we are, why we are here, and having a vision for how we can live that purpose is a significant key to a rewarding and fulfilling life.
In the early 2000s, Alan was one of the pioneers in talking about life purpose.
Soul Mission * Life Vision
 was one of the first books on this topic and helped open the door to this important life conversation.
Your soul mission is not so much something you do, but rather is the energy or passion that drives everything you do. Getting clear about your soul mission streamlines your energy and focus so that you can make the difference you feel called to make. Living your soul mission is the greatest gift you have to give to others and, at the same time, is the path of your greatest lessons. To identify your soul mission is to identify your greatest potential.
Through the Soul Mission * Life Vision book and various learning and coaching opportunities below, you can find the support and guidance you need to discover your soul mission and design your life around your own greatest purpose and potential.
Book: Soul Mission * Life Vision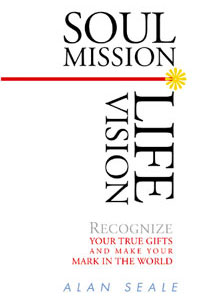 Soul Mission * Life Vision is a ground-breaking guidebook to knowing and living your life's purpose. It is the owner's manual you never received when you entered this world, offering both the theory and the practice that can lead you to getting the most out of your life on every level.
This compelling book begins with an in-depth exploration of how life works—understanding your human experience. From there, Alan leads you on a powerful expedition to discover your soul's mission.
Anchored by your soul mission, the book helps you create a vision for your life in which you can fully live your soul mission. There are exercises to help you break through limiting beliefs and to help you learn use the power of your conscious and subconscious minds.
The second half of the book is a "how-to" manual for bringing your vision to reality. Alan adapted the ancient Lakota Medicine Wheel to create The Manifestation Wheel, a practical and interactive guide for the journey of self-awareness and personal transformation. Having discovered your soul mission and written a life vision, now you put your vision on the Wheel to bring it to life. The Manifestation Wheel provides a user-friendly structure for overcoming resistance, addressing fears, gathering resources, shifting paradigms, listening to intuition, creating action plans, and accomplishing your goals.
As Alan continued to develop The Manifestation Wheel in the years after Soul Mission * Life Vision was published, he went on to publish an even more in-depth guide to using the Wheel. The Manifestation Wheel was published in 2008.
Alan Seale's book, Soul Mission, Life Vision, came to me quite unexpectedly at a point when I was seeking a deeper understanding of what I came into this life to accomplish – my soul mission. Seale's guidance both led me to understand my soul mission mission and then taught me how to align my life in order to live it – my life vision. If you wish to end the monotony of complacency and reach your highest potential, then read this book for an elevation of clarity, vision and spirit that will have you embracing your life with new-found enthusiasm.

 

Bob Olson
Editor, OfSpirit.com
as reviewed on Amazon.com

 
Audio Course (Pre-recorded)
Soul Mission Discovery Personal Coaching
Soul Mission * Life Vision Workshops Led by Alan's Certified Program Leaders