Navigate the Present, Create Our Way Forward:
Surf to Serve an Emerging New World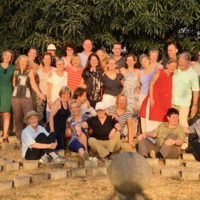 Friday, June 19, 2020
Virtual Gathering
Hosted by the Seale Foundation
The 2020 Transformational Presence Global Leadership Gathering was to have been held June 19-21 at Kapellerput Conference Center in Heeze, The Netherlands. However, due to the coronavirus pandemic, we postponed our three-day event until 2021, and have created a very special one-day virtual event on Zoom. 
To register, please contact Gabriella van Rooij via email. 
What is the Global Leadership Gathering?

In 2013, Alan created the first Transformational Presence Global Summit, a four-day event where graduates of the TPLC and TPLA programs from around the world could come together, continue to learn from him and from each other, and continue evolving Transformational Presence work in the world.
For 2017, the name of the event was changed from "Global Summit" to the Transformational Presence Global Leadership Gathering. Until this year, Alan has continued to take the lead in the planning and organizing of the Gatherings. However, his original vision was that the Gathering would ultimately be an event organized and led by the community for the community.
For the 2020 Gathering, the Core Planning Committee is being led by Joanna Zawada Kubik, CTPC, MCC (Poland) and Sander van Eekelen, CTPC (Netherlands). Alan is still serving on the Core Committee helping to bridge this event to full community leadership. The 2020 Gathering will be hosted by Gabriella van Rooij (Netherlands) and the Seale Foundation.
The Global Leadership Gathering is a time and place to:
reconnect to the energy of Transformational Presence
deepen your own personal presence
rejuvenate your spirit
learn from your Transformational Presence colleagues and from Alan
deepen your leadership and coaching awareness and skills
clarify your next steps as a Transformational Presence leader and coach
connect to and co-create for collaborative projects with Transformational Presence colleagues from around the world
*This event is open to graduates of the Transformational Presence Leadership and Coach Training (TPLC) and graduates of the Transformational Presence Leadership in Action course (TPLA).
The Online Gathering Program Outline
Committees for the Global Gathering
Registration