It was a blustery, cold night in Boston's Copley Square. We were standing in a long line of people waiting for the doors of historic Trinity Church to open, grateful to have arrived early and be near the front of the queue, as the line soon stretched all the way across the Square. There was a gentle, quiet, celebratory spirit among the people around us. Friends were catching up with one another, sharing stories about family, work, and holiday celebrations. Children were running and playing, oblivious to the cold. Hosts from the church wandered among the waiting crowd offering Christmas candies and warm, genuine smiles. The front steps of the church were adorned with hundreds of luminarias (white paper bags with a small lit candle inside). A woman carrying paper bags and markers stopped to ask us if we wanted to write a prayer on a bag to add to the beautiful display.
We had come to Copley Square this night for the Candlelight Carol Concert at Trinity Church, a long-standing Boston holiday tradition, and you could feel the excitement and anticipation in the air for what was to come.
At last, the front doors of the church opened and people began streaming in. Although I had been in this church before, I was once again overwhelmed by its beauty and the warm, rich, embracing feeling created by the Byzantine architecture, muted red and gold wall coverings, murals, and carved wood. The focal point of Copley Square for nearly 150 years, Trinity Church is a space that inspires stillness, introspection, awe, and wonder – truly a sanctuary for the soul. We settled into our pew and just let the space hold us. Soon the concert began, and for two and a half hours, we were bathed in candlelight, sacred readings, familiar carols, and extraordinary harp, brass, and choral music ranging from the mystical to the exhilarating. My soul was fed in ways it hasn't been for a long time. I'll bask in the memory of that evening for weeks to come.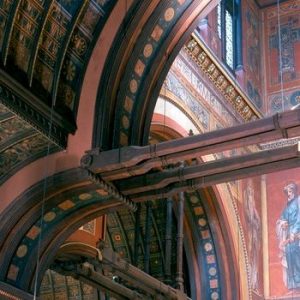 Life is full. Sometimes too full, yet we just keep on going. The Christmas concert at Trinity Church reminded me that, even though I have a daily meditation practice and am actually pretty good at staying centered and grounded, it had been a few months since I had taken an entire evening with the express purpose of feeding my soul. Don't get me wrong – many of my activities are things that I enjoy. Yet there is a difference between doing things you like to do and doing something specifically to feed your soul. That intention takes your awareness and experience to a higher level.
Daily life can bring a mix of opportunities, laughter, challenge, frustration, loss, accomplishment, success, and surprise. Taking time to feed your soul on a regular basis can make the highs even more incredible and provide courage, strength, and clarity when times are tough. When our soul is filled to overflowing, we have ample energy to give, serve, and be present for the people and causes we love. Yet when the soul is depleted – when the soul has given and given and given, yet has not been fed – we become easily overwhelmed by all that life asks of us.
So what feeds your soul? I'm not just asking what you like to do or what is fun for you. What actually feeds and nurtures your soul? And how often do you take time for that?
I've learned over the years that if I just try to "fit soul in" to my busy life, it rarely happens. It will only happen when I give "soul time" a high priority, make it a habit, and then hold that time as sacred.
There is daily "soul time" and then there are other, more occasional "soul feedings." My daily "soul time" includes morning meditation and reflection as well as at least one daily walk down the road with my dogs. It also often includes a late afternoon pause with a cup of tea in the sunroom or on the deck to enjoy our gardens and the surrounding wildlife and nature.
Beyond my daily schedule, prioritizing "soul time" means looking at the Boston Symphony concert schedule every few months and picking out a program that I know I will enjoy. The extraordinary acoustics of Symphony Hall are a gift to the soul and body, no matter what the orchestra is playing.
Prioritizing "soul time" means planning our spring week on the beach in Florida a year ahead of time and blocking it out on the calendar. It also means planning a year ahead for two weeks at my beloved Chautauqua Lake each summer – one week to share with my family and one week as my own personal retreat.
When I'm traveling for work, I seek out special spots that provide a respite for my soul – a walking trail in the woods, a solitary bench beside a canal or lake, or just a peaceful spot with a beautiful view. And then I slip away to those spots from time to time to recharge and refresh.
The year-end holiday season can be particularly busy and stressful. For many people, this is a season of giving gifts. So make sure that your soul is on your gift list. Feed it with the space and focus that it longs for. Give your soul at least a little time every day in whatever way feels good to you. As you look ahead to 2015, build some soul time into your calendar. It will provide sustenance for your already full life.
P.S. If you are looking for something to feed your soul right now, here are a couple of contemporary choral works that I take time out to listen to frequently as a momentary "soul bath."
Eric Whitacre – Lux Aurumque (4:15)
Morten Lauridsen – Lux aeterna (27:44)
If you enjoyed this blog post and found it helpful or inspiring, I invite you to subscribe to our free weekly newsletter by clicking here.