Every morning when I open my inbox, I look first for the daily "story-art" email from Brian Andreas. Brian's work nearly always brings a smile to my face – often, even a joyful chuckle. It's a great way to start my day.
A few days ago, Brian's story-art of the day was "Beautiful Things" (see below). I've actually known this one for a while now, yet it was great to be reminded of it again.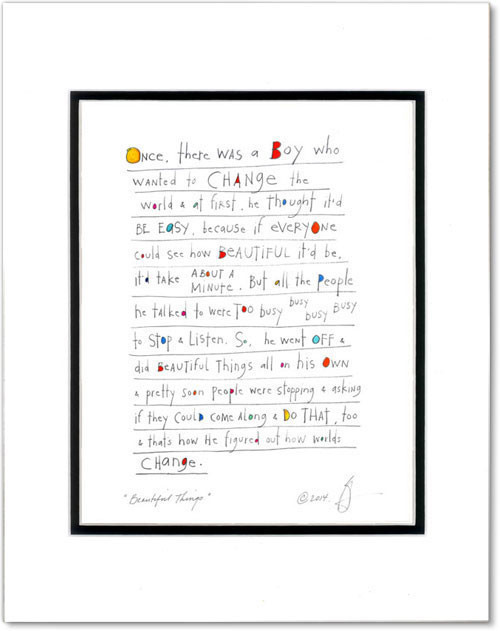 (Just so you know, there is also a "girl" version of this story-art.)
Many of us want to change the world, or at least make a difference in some way. Yet, too often, there is a big gap between wanting to make a difference and actually jumping in and doing it!
So many things can get in our way. People tell us we're crazy; it can't be done. Or we tell ourselves that we don't have the money or the time. Or we don't know how. Other people have tried, but it didn't work. What if we fail? What will people think? Or what if we succeed? Life might completely change. Are we ready for that? And anyway, who are we to try? Who are we to change the system or create something amazing or brand new?
Yet then…
Once, there was a boy who wanted to change the world & at first,
he thought it'd be easy, because if everyone could see how beautiful it'd be,
it'd take about a minute, but all the people he talked to were too busy
to stop & listen. So, he went off & did beautiful things all on his own & pretty soon
people were stopping and asking
if they could come along & do that, too
& that's how he figured out how worlds change.
Steve Wozniak, co-founder with Steve Jobs of Apple Computer, once said, "All the best things I did at Apple came from (a) not having money, and (b) not having done it before, ever."
What is the difference you want to make, or the beauty you want to create, or the new thing you want to try?
What if you just did it? What if you were to let go of your "story" about it and just go for it? What if that is, in fact, how worlds change?
If you enjoyed this blog post and found it helpful or inspiring, please share it with your friends on social media by clicking on the icons below. You are also welcome to make a comment below. 
You may subscribe to our free weekly newsletter by clicking here.
Related Blog Posts: