This article is an excerpt from Alan's new book, Transformational Presence: How To Make a Difference In a Rapidly Changing World. The book will be released first as a free pdf download from October 11th through November 30th, making it available to everyone. Print and e-book versions of the book will be available for purchase starting on November 1st.
Every book that I have written has had its own unique journey and process. However, none has felt as urgent and timely as this one. The writing process has been fierce and relentless. The book grabbed hold of me and would not let go. And for that I am grateful. The work of Transformational Presence continues to be my greatest teacher. I feel blessed that this work chose me.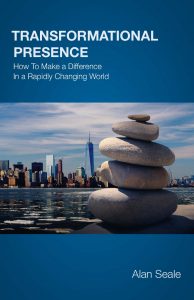 We live in a rapidly changing world. In fact, change is happening at a pace never before seen in human history, and that pace is likely to keep getting faster. Because there are more and more moving pieces and things are less and less clearly defined, uncertainty has become the new normal.
Some might say that everything is breaking down and falling apart. Yet what if things are actually breaking open so that everything that has been hidden or does not serve a greater good for all can be revealed? What if things are breaking open so that we can make a fresh start – so that something new can be created? What if big things are waiting to happen? What if we are at a tipping point for creating a world that works?
Chances are that you, like me, feel called to make a difference in this rapidly changing world, or you wouldn't have been drawn to this book. Years ago, modern dance pioneer and choreographer Martha Graham spoke about "a queer divine dissatisfaction, a blessed unrest that keeps us marching and makes us more alive than the others." Today, more people than ever are feeling their own "divine dissatisfaction" or "blessed unrest" and want to make a difference. Yet also, unfortunately, it's easy to get bogged down in not knowing how or where to begin.
It's OK that you don't know. Just start. Start where you are, and start now. It doesn't matter as much where you begin as it does that you just begin. As you do, things will start to happen, and a path will begin to reveal itself. This is the new world. We discover and create as we go, working with what we have and manifesting what we don't have. Step by step, things unfold and, through the process, we learn how to do what we need to do. This book will help you get started.
I wrote this book for people who are committed to making a difference – people who have not just a desire, but a drive or passion within them for being of service towards a greater good. This book is for visionaries who want to get beyond their vision into action. It's for leaders who seek support in navigating the unknown and pioneering new territory. It's for coaches who support people in living into their greatest potential and bringing their gifts to the world. It's for teachers who are looking for simple yet powerful language and structure to make big concepts accessible and applicable for all. It's for people who have dedicated significant portions of their lives to serving others. And it's for anyone who wants to help create a world that works.
The Transformational Presence approach might not be what you would expect to find in a "how-to" book. You will not find a ten-step plan or process. You will not find a magic formula that makes all things happen. That's because linear, detailed, step-by-step plans and formulas often don't work very well anymore. However, what you will find are simple, practical, and powerful approaches that can serve you no matter what your project or challenge may be.
This book is actually the first of a two-part Transformational Presence set. It begins by offering a fundamental understanding of what Transformational Presence is and the role it can play in today's world. From there, we explore how life works as energy in motion and how that can help us in these times of rapid change and deep uncertainty. Through this exploration, you will learn more about how to navigate this unpredictable, complex, and often confusing world. Finally, we prototype a new kind of leadership – a leadership that serves us going forward in the most powerful, productive, effective, and impactful ways – a leadership that can support us in navigating new territories and learning to thrive in new creative spaces and new ways of being.
In the second book, Transformational Presence: The Tools, Skills, and Frameworks, we continue to prototype this new leadership through more than forty simple, powerful, and practical tools, frameworks, skills, models, and approaches that are designed specifically for our rapidly changing times. You can begin applying them immediately in your life, leadership, and service. They are effective in all kinds of settings – with individuals, families, classrooms, teams, organizations, and companies.
This first book will expand your thinking, perception, awareness, and understanding. Then the Frameworks book will help you discover "how" to do whatever needs to be done as you do it. These two books together are also the primary resource books for our newest Leadership Development programs.
~ ~ ~
Because of the timely nature of this book with all that is happening in the world, we will make it available as a free pdf download from October 11th through November 30th. We also offer three free webinars to introduce the powerful concepts and tools of the book on Wednesdays, October 11th, 18th, and 25th, at 2 pm EDT / 11 am PDT / 20h CET. You can find the details in the article below. Register here for the free webinars.
In the meantime, what is the "blessed unrest" and "divine dissatisfaction" within you? What is it asking you for? This book can help you find your next steps.
~ ~ ~
If you enjoyed this blog post and found it helpful or inspiring, please share it with your friends on social media by clicking on the icons below. You are also welcome to make a comment below. 
You may subscribe to our free weekly newsletter by clicking here.
Related Blog Posts: