I'm incredibly excited to share my new book with you today—Transformational Presence: How to Make a Difference in a Rapidly Changing World. Due to the timely nature of this book, we invite you to download a free pdf copy of the manuscript. This free download will be available until November 30th. This makes the book and its message of Transformational Presence available to everyone. The print and e-reader versions of the book will be available for purchase online and in bookstores starting November 1st. 
Please share the download link as a gift to your friends and colleagues—www.TransformationalPresenceBook.com. Together, we can spread the message of Transformational Presence around the world.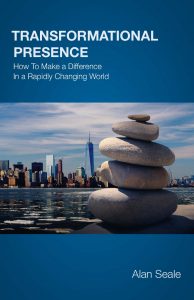 The process of writing this book has been an enormous gift to me in my own journey. It has helped me find peace with all that is happening in the world and hope in a future that we can create together.
Few people would argue that we are living in challenging times. Many might say that everything is falling apart—that the systems, structures, and values that we thought we could always count on are breaking down. However, if we look at what is happening as a "breaking open" instead of a "breaking down," new possibilities emerge. Many people want to make a difference—to do their part to create a world that works. Yet they often get stuck not knowing how. Transformational Presence shows you how.
If we think of "a world that works" as a specific outcome or destination to reach, it feels like a daunting task. However, if instead we focus on taking one step at a time towards a world that works, it feels more possible. Making a difference—creating a world that works—is actually not about a destination. It's about the journey we are on, what we are learning, and what we choose to create along the way in service of something bigger than ourselves. If we keep our focus on the next step, we are likely to visit some amazing "destination" as we go. And we will grow into the understanding that "a world that works" is actually not a fixed vision—it's an ever-evolving vision, just as who we are and what we can imagine is also constantly evolving. 
We explore all of this and more in Transformational Presence: How To Make a Difference In a Rapidly Changing World. You will learn how to cut to the essence of what is happening—whether in your personal life, your family, your company, or in the world—and how to find your way forward. You will find deeper understanding about what is happening beneath the surface in this era of rapid change, and learn how to navigate the ever-emerging challenges and opportunities that are here for all of us.
What people from around the world are saying about Transformational Presence
Alan Seale's latest book provides hope and a big vision for a world that feels overwhelmingly divided and unjust. He disrupts traditional leadership paradigms with a set of new and powerful tools that have the potential to bring us all closer together and give us the results we need in times of uncertainty and complexity.
 Kathrin O'Sullivan (USA)
Executive Coach & Consultant
Former Head of Executive Development at Google
A book that makes my heart sing: full of practical wisdom for all those who want to express their soul purpose and make a difference in the world. Highly recommended.
Richard Barrett (UK)
Chairman of the Barrett Values Centre
Founder of the Academy for the Advancement of Human Values
Alan Seale has an amazing talent to explain the transformation journey in a way that is accessible to all. Reading his words gives us hope that together we can indeed create a world that works.
Stephane Leblanc, CEO (Canada)
International Centre for Conscious Leadership
This is not just a book to read; it's a message to become. It's a living and breathing invitation to choose the path least followed in order to prepare a gateway for many more who are waiting at the horizon.
Joanna Zawada–Kubik (Poland)
Executive and Organizational Coach
This book is cutting-edge. If you're looking for a way to handle the complexity in your life and business, turn to Transformational Presence. It will give you all you need and much more.
Sander van Eekelen (The Netherlands)
Leadership Coach and the Founder of the Academy of Life
Download the free pdf of Transformational Presence
If you enjoyed this blog post and found it helpful or inspiring, please share it with your friends on social media by clicking on the icons below. You are also welcome to make a comment below. 
You may subscribe to our free weekly newsletter by clicking here.