After an incredibly fulfilling and intense ten months of travel, teaching, speaking, and writing, it's time for a long-anticipated summer break. I wanted something special to leave you with until we meet again in the middle of August, so I set the intention that just the right thing would show up. Indeed, within a couple of days, a video clip of Grammy-award-winning jazz vocalist Bobby McFerrin appeared in my inbox. I knew right away that this was it. Thanks so much to the community member who shared it with me.
Bobby McFerrin's unique style of unaccompanied singing and improvisation has delighted, inspired, and amazed audiences for nearly 40 years. Using scat singing, polyphonic overtone singing, and both his voice and body to create percussion effects, his infectious spirit draws people together quickly in spontaneous music-making. He is a master at bringing large diverse audiences together by going straight to the heart. Before they quite know what is happening, they are totally engaged in joy-filled co-creation.
In the 12thcentury, German Benedictine abbess, composer, Christian mystic, and visionary Hildegard von Bingen wrote:
You understand so little of what is around you
because you do not use what is within you.
Seven centuries later, American philosopher and poet Ralph Waldo Emerson, leader of the 19th-century transcendentalist movement, wrote:
Within us is the soul of the whole,
the wise silence,
the universal beauty,
the eternal One.
Modern-day artist Bobby McFerrin works his musical magic by taking audiences straight to their deep inner senses where they instinctively sense and feel the interconnection of all. Without fanfare or explanation, he takes them to the soul of the whole, the universal beauty, the eternal One. By providing just enough structure to get things started, he ignites and conducts impromptu jubilant co-creation.
This seven-minute video comes from his 2012 Kennedy Center concert celebration of the life and legacy of Dr. Martin Luther King, Jr. With all that is happening in the world today, perhaps a little spontaneous unity and impromptu jubilation can help us remember who we are and what we're really here for.
Enjoy the video, have a great few weeks, and I'll be back right here the week of August 13th.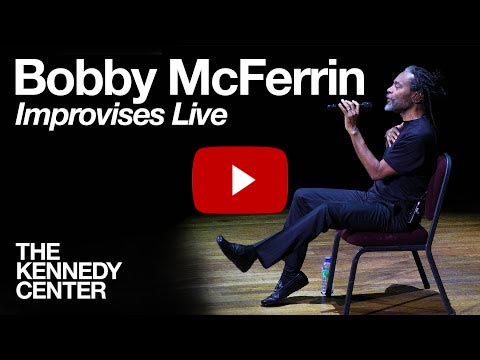 If you enjoyed this blog post and found it helpful or inspiring, please share it with your friends on social media by clicking on the icons below. You are also welcome to make a comment below. 
You may subscribe to our free weekly newsletter by clicking here.
Related Blog Posts: