Alan Seale's new book provides hope and a big vision
for a world that feels overwhelmingly divided and unjust.
He disrupts traditional leadership paradigms and
gives us the tools we need in times of uncertainty and rapid change.
– Kathrin O'Sullivan, Executive Coach & Consultant (USA)
Former Head of Executive Development at Google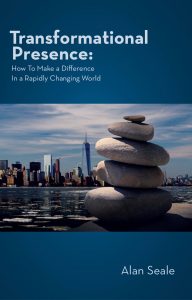 Few people would argue that the world is changing quickly. However, what are the changes really about? What's happening underneath the surface, why is that important, and how can we respond in the most effective and impactful ways?
These questions are at the heart of my new book, Transformational Presence: How To Make a Difference In a  Rapidly Changing World, due for publication on November 1st. This book has been "working on me" for several years, yet in recent months, it became clear that the time was now.
Because the book's message is so timely for all that is happening in the world, we will offer a free PDF download of the book manuscript from October 11th through November 30th. The print and e-book versions of the book will be available for purchase on November 1st.
During this seven-week introductory period, our intention is to continue spreading the message of Transformational Presence further around the world. It's a message of hope, inspiration, vision, understanding, new kinds of strategizing, and enlightened action. Making this book available for free for seven weeks is another way that we continue to fulfill our mission: to create a world that works. When the download link is announced on October 11th, please share it with your colleagues and friends and through your social media networks.
A Transformational Presence 2-book set
Transformational Presence: How To Make a Difference In a Rapidly Changing World is actually the first book of a two-book set. This first book explores a new paradigm of leadership and service for our complex and uncertain times. While many people feel that systems and structures in our world are breaking down and falling apart, I believe that they are actually breaking open. When something breaks open, we can more easily see or sense what is happening at the core. We can discover the seed of a new future that is waiting for us. Transformational Presence offers new ways of thinking and understanding. And it provides simple yet powerful, practical yet effective tools and approaches for navigating our current challenges and opportunities.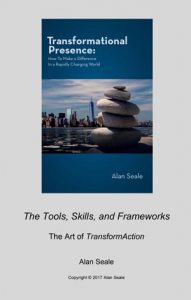 The second book, Transformational Presence: The Tools, Skills, and Frameworks, includes over forty tools, exercises, models, and frameworks to support you in making the difference you feel called to make. These tools and frameworks are designed for working within teams and organizations as well as with individuals. Together, these two books are a powerful resource and inspiration for:
Visionaries who want to move beyond their vision into action
Leaders who are navigating the unknown and pioneering new territory
Individuals and Organizations committed to living into their greatest potential
Coaches, Mentors, and Educators supporting the greatest potential in others
Public servants committed to making a difference
Anyone who wants to help create a world that works
3 Free Introductory Webinars
To introduce the books, Trace Hobson and I will offer three free interactive webinar dialogues. The live videoconferences will be on Wednesdays, October 11, 18, and 25, from 2 – 3 pm EDT / 11 am – 12 noon PDT / 20 – 21h CET. All of the dialogues will be video-recorded so that you may also watch later at your convenience.
Please join us! Register for the free webinars now.
Wednesday, October 11, 2017 
Why Transformational Presence? Why Now?
Conscious Leadership in a Rapidly Changing World
 Wednesday, October 18, 2017
The Great Breaking Open:
What it means and the invitations that it offers
 Wednesday, October 25, 2017
A New Paradigm:
TransformActional Leadership, Service, and Culture
All of the dialogues will be video-recorded and available within 24 hours after the dialogue. All registered participants will receive a link to the video recordings via email.
~ ~ ~
If you enjoyed this blog post and found it helpful or inspiring, please share it with your friends on social media by clicking on the icons below. You are also welcome to make a comment below. 
You may subscribe to our free weekly newsletter by clicking here.
Related Blog Posts: