Three fantastic days. Thirty-two people from nine countries. Great inspiration. Powerful learning forward. Beautiful co-creations. Deep heart connections. An abundance of laughter and fun. A wealth of wisdom and sharing.
These are just a few of the ways you might describe the 2015 Transformational Presence Global Summit that took place June 4 – 7 at the Huize Bergen Estate in Vught, The Netherlands. This was the third global gathering of graduates of the Transformational Presence Leadership and Coach Training program. We came together to learn from each other, to share wisdom and practices, to co-create and collaborate, and to continue expanding Transformational Presence work in the world.
Organized by an international committee and hosted by Het Eerste Huis, the presenter of Transformational Presence work in the Dutch-speaking community, our days together were a beautiful co-creative flow between planned sessions and following the energy of what wanted to happen in the moment.
Raquel Ark (Germany / USA) and Jos Rovers (Netherlands) were the leaders of the Summit, weaving the experience together for our participants. I led Masterclasses each day, introducing a new leadership and coaching model called "The Project Circle." Rounding out the program were informative and inspiring Discovery Sessions led by community members.
"The Project Circle" became the first coaching model co-created by the Transformational Presence community. Over the last few months, I had created the basic platform of "The Project Circle" as a new leadership and coaching structure to help individuals, teams, and organizations accomplish goals and bring projects to life. Then in the opening session of the Summit, we began working with the "Circle" through a big coaching process. Throughout our three days, we continued to explore and further develop the "Project Circle" as a leadership and coaching model. It was a wonderful co-creative endeavor. Jos Rovers transformed our large Summit meeting room into "The Project Circle" map or container, which then served as a working platform not just for my Masterclasses, but also for the graduate presentations on the second day and the "Transformational Presence in the World" sessions on our final day. Throughout our three days together, we continued to discover more ways of using the "Circle" and how it could serve us in our work with clients and organizations.
In the first Discovery Session, Mark Braber (Netherlands) and Marius Appelman (Netherlands) shared their learning and insights from working together as coach and client in Marius' international company, Riksja Travel. Over the last three years, they have brought Transformational Presence principles into every level of the company. This "case study" was inspiring and helpful to many who are committed to bringing Transformational Presence into the business world.
Raquel Ark and Chris Monk (UK) followed with a Discovery Session on "Potential-Based Business." They helped us explore how we define success and marketing within a Transformational Presence context. From there, we explored our next steps in building our businesses on a foundation of Transformational Presence concepts and principles. This session was just one part of an ongoing project that Raquel, Chris, and Mark Vandeneijnde (Switzerland) are leading in the Transformational Presence community.
Katrien Rommens (Belgium) and Claartje Driessen (Netherlands) led a very playful yet powerful Discovery Session introducing several simple yet immediately effective bodywork techniques that can support Transformational Presence work with clients.
Raquel Ark created and led a group coaching process using "The Project Circle" as yet another tool for helping those we serve find next steps in projects and goals. Jos Rovers followed Raquel's session with a profound coaching carousel process – a moving variation on the Transformational Presence "Dialogue and Deep Listening" tool. It is extraordinary what can happen between two people in silence when we allow ourselves to drop into the deep stillness within.
In the evening of the second day, Francine Derks (Netherlands) and Lidwien Opheij (Netherlands) led a co-creative drawing workshop. The basic idea of the session was that each participant would begin a drawing or painting and then give it to another participant to finish it. The results were astounding! The session continued with variations on that process, concluding with a group co-creation of a sculpture. You can see more in a short video that Lidwien created about this co-creative drawing and painting experience.
The last morning was devoted to "Transformational Presence In the World." Francine Derks and Mark Braber helped us explore our next steps in carrying Transformational Presence out into the world, both individually and as a community. It was a powerful ending to our three days together as we each made commitments to ourselves and to others for the important steps we would take in the coming months. There was an incredible energy in the room as networks were established in a very organic way – networks of people that each of us can call on for support as we continue to do our part to create a world that works.
On the last evening, after the official Summit closing, many more members from the Dutch and Belgian Transformational Presence communities joined the Summit participants for a surprise birthday party for me. I had turned 60 back in April, so I was not expecting a celebration in June! The energy was absolutely sparkling. As the evening unfolded, there were gift presentations and singing, lots of joyous hugging and reconnection, a beautiful buffet dinner, and gorgeous desserts created by Gabriella van Rooij and Peter van Hoof (Netherlands). Before the evening was over, Mariël van der Linden (Netherlands) orchestrated a fantastic group rhythm performance that brought all sixty-five guests together into one "orchestra." It was a night I will never forget.
I celebrate this extraordinary Transformational Presence community and all that our members in 30 countries are doing to make a difference in the world. Together, step by step, year by year, decade by decade, we can create a world that works.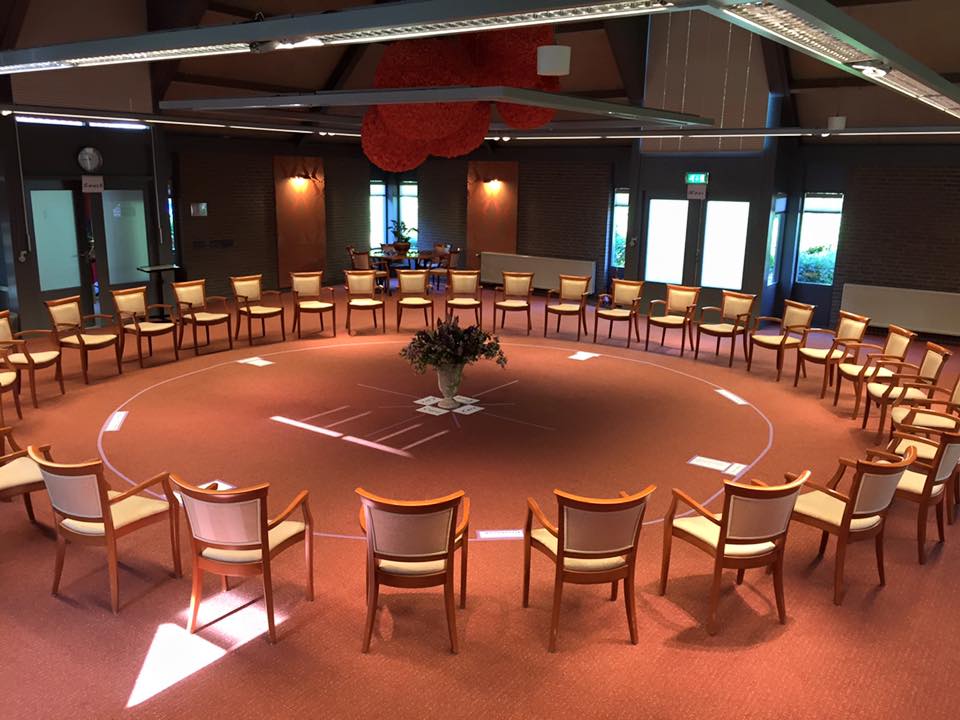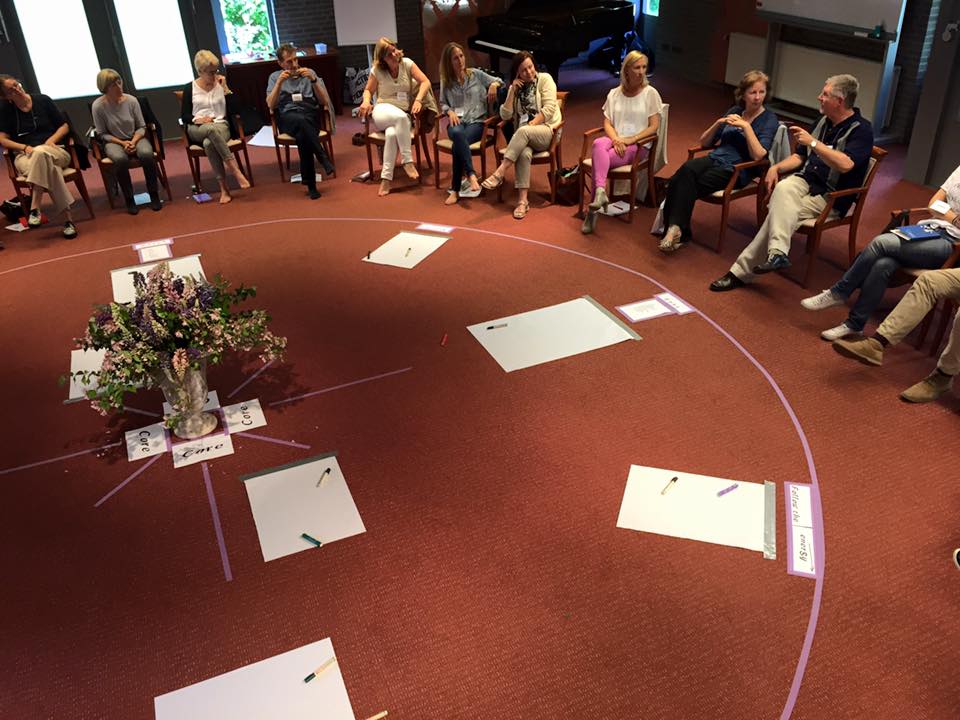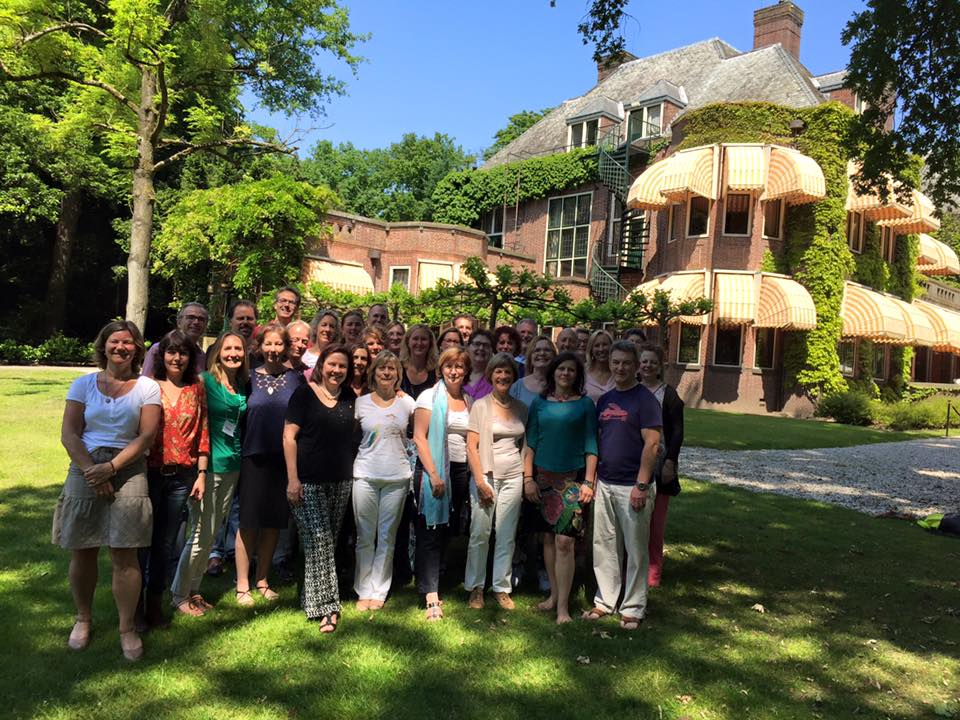 P.S. If you are ready to take your leadership, coaching, and/or service to the next level, join us in a Transformational Presence Leadership and Coach Training or a Transformation in Action workshop during the 2015 – 16 season. Give this gift to yourself and to those you serve.
If you enjoyed this blog post and found it helpful or inspiring, please subscribe to our free weekly newsletter by clicking here.