There's a lot happening in the world. There are many things to celebrate, even if sometimes we have to look for them. And there are certainly many things that weigh heavily on our hearts and minds. There are moments when it feels like we're right on the edge and we wonder what's going to happen. How are we going to make it? How do we keep on keeping on?
It's amazing how, if you are open to receive, the universe has a way of bringing you the message that you need right in the moment that you need it. On a recent morning when I felt like I was losing ground with those questions, Brian Andreas' word art poster "Awakening" appeared in my email inbox.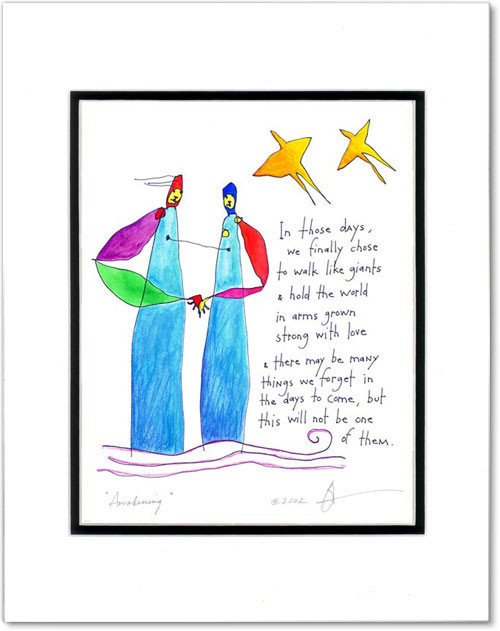 In those days, we finally chose to walk like giants
& hold the world in arms grown strong with love
& there may be many things we forget in the days to come
but this will not be one of them.
It was just the message I needed—a beautiful reminder that it's all about choice. Whatever is happening is whatever is happening—I may or may not be able to change that in the moment. Yet I can choose who I will be and what I will do. I can choose to step into the fullness of my being and walk like a giant. I can choose to stand tall in the gifts I have to bring to the world. Who I am and the gifts that I bring are not diminished by what is happening. If anything, when I choose love as the source of my strength, my gifts find new expression. And sometimes in the darkest moments, I discover gifts I didn't know I had. I can choose to hold the world in my arms grown strong by love.
Years ago, in my former life as a professional singer, my mantra before walking out onto the stage was, "Just love them. Just love them. Just love them." That mantra remains with me today as the last words I say to myself before walking into the workshop room or onto the lecture stage. "Just love them."
In the end, that's all we have to offer. In today's complex world, we will rarely be able to fix anything for anyone. That's just not how it works anymore. There is nothing to fix.
Yet there is a lot to transform. There is a lot to heal. And there is a new world that is waiting to be born if we can stretch our imaginations far enough to dream it into being.
Brian's whimsical yet powerful drawing reminds me that no matter where we are or what is happening—whether times are good or bad, whether we are thriving or just trying to survive, whether we are leading countries or simply leading our own lives—we can choose to walk like giants and hold the world in arms grown strong with love.
If you enjoyed this blog post and found it helpful or inspiring, please share it with your friends on social media by clicking on the icons below. You are also welcome to make a comment below. 
You may subscribe to our free weekly newsletter by clicking here.
Related Blog Posts: