Introduction by Alan Seale
Article by Francine Derks and Lidwien Opheij
At the 2015 Transformational Presence Global Summit, I had the opportunity to experience the magic and power of a co-creative art process designed by two of our Certified Transformational Presence Coaches, Francine Derks and Lidwien Opheij, both from The Netherlands.
As a result of the learning, discovery, and fun that happened on that summer Summit evening, many people wanted to continue exploring. Over the past few months, twelve people from five countries have partnered to co-create artworks. Together, they have broken through creative barriers, explored new avenues of expression, and learned a lot about collaboration and co-creation.
Inspired by what continues to unfold, I invited Francine and Lidwien to share their story about how they discovered this co-creative process (it was quite by accident!) and what becomes possible when you say "Yes" to what wants to happen. Perhaps their story and the process they describe below will also inspire you.
Thank you, Francine and Lidwien, for following the potential and opening the door to a new form of expression and discovery.
~ ~ ~
Transformational Presence offers a unique way of co-creating with others. It's all about flowing together in a discovery process, responding to one another's ideas and inquiries, and sensing together what wants to happen next. The co-creative process actually unfolds itself and you never know what will happen or where it will take you. It's really a process of riding the creative wave.
Our "Co-Creation Experience" began with a meeting of our Transformational Presence Supervised Mentor Coaching group more than a year ago. When the meeting was over and most of the group had departed for home, we realized that Pauliina had left behind her beautiful binder. Little did we know at the time that a whole new co-creative art process was about to be born.
Lidwien quickly found an envelope to mail the notebook to Pauliina. As the two of us continued talking about what had happened in our afternoon gathering, Lidwien started drawing on the envelope. Stopping after a short time, soon Francine spontaneously picked up the envelope and continued on with the drawing. Without thinking about it, we just kept passing the envelope back and forth between us, each adding something more to the drawing. The drawing evolved in its own way through us.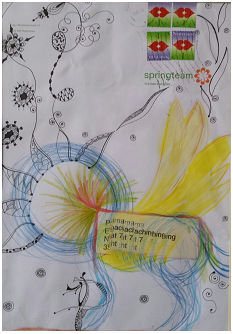 We felt a beautiful energy in our process and were so happy with the result. When Pauliina received her package in the mail, she was, of course, very happy to have her binder back, yet even happier to receive the beautiful envelope. She could sense our energy and the fun we had in the co-creative process. The envelope now hangs on display in Pauliina's home.
From this experience, the two of us decided to keep exploring with this co-creative process. Because we do not live close to one another, one of us would start a drawing or painting by sensing what wanted to happen – how the drawing or painting wanted to start – and begin. When it felt like the initial work was complete, the initiator would mail the unfinished artwork to the other one and invite her to finish it.
As we continued exploring and playing with this new co-creative form, the process itself challenged us to experiment with colors, borders, possibilities, and new domains of artistic expression. Each co-creation was a totally new experience. Each time one of us received an artwork in the mail from the other, there was a surprise. And in the process of co-creating, we met our own filters of perception, our beliefs, our assumptions, and our habits. In effect, we were coaching each other and ourselves by drawing! No words were necessary. The process itself took us to our "edges," invited us to take risks in our own full and honest creative expression, and ultimately to step across the edges.
For example, Lidwien would begin by making a colorful drawing in a loose flowing style. When Francine received it, she made it "perfect" with her precise hand. Or Francine would send an artwork to Lidwien, and Lidwien might feel the need to completely change Francine's original concept – to make a new work out of it. We gave our permission and trust to each other, knowing that if we trusted the process, something wonderful was likely to emerge.
After a while, it seemed that there was something more that wanted to happen – that this co-creative process wanted to have a life beyond just the two of us. So we decided to offer a workshop at the 2015 Transformational Presence Global Summit. The participants were so enthusiastic about the workshop that many asked to continue exploring together after the Summit. In fact, the enthusiasm was so strong that it rippled out through the Transformational Presence global community. We began hearing from others who hadn't been with us at the Summit but wanted to experience this new way of creating together.
We organized the group into pairs and started co-creating. Because our participants live in many different countries, we use Facebook as a platform for sharing our artworks. We share them in "before" and "after" versions, and then everyone can comment. We also share our experiences, feelings, thoughts and judgments – in other words, we share our "edges" and our learning as well as our fun and delight. As we keep co-creating together, we keep learning from and with each other.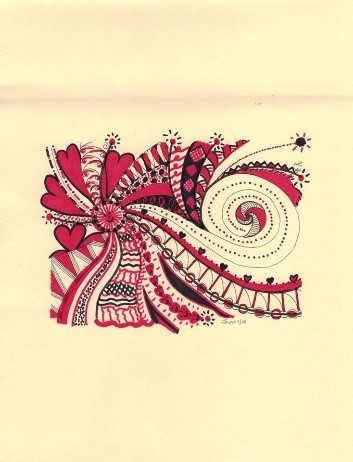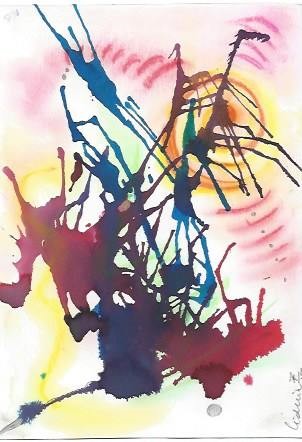 Here are just a few things we have learned and discovered:
When you start with a blank canvas, it can be a challenge to decide what materials you will choose, or what you will draw, paint, or glue to the surface. In part, this is because you know that your partner is going to continue on from whatever you create as a starting point.
When you receive an artwork, you sense the energy of your partner in it. You have the choice to continue in this energy and work with it, or to change it completely. It is important that the partners give each other complete freedom.
This co-creative process involves taking risks, not only in your own creative process, but also in how your partner might react or respond.
Being "results driven" gets in the way of the creative process. The process unfolds the best when you just work in the moment with what you have and with what is flowing through you, trusting that whatever is showing itself is what wants to happen. Trying to control or plan the artwork only leads to frustration. And that alone is already a beautiful learning.
This co-creative process challenges you to step out of your patterns. For example, let's say that you always work with colored pencils. You like them; you like the effects you can create with them; you know how to handle them. Yet when you receive the artwork from your partner, colored pencils may not be the medium that the energy invites. So will you stay within your comfort zone, or will you stretch yourself to work with a new medium or in a different way? Perhaps the invitation is to paint with watercolors, or to tear the paper or to crease it, or to do something else entirely. As a group, we have found that we are stretching ourselves to make new choices, because we want to grow.
Working in this way can bring you face to face with your own limiting beliefs, such as: I am not creative; What I receive is too difficult to work with; My partner is better at this than I am; This has to be good; I might spoil the work of someone else. Together, we have learned the importance of suspending our judgment about an artwork, even when it is finished.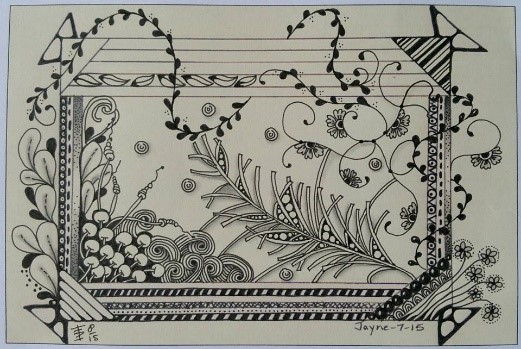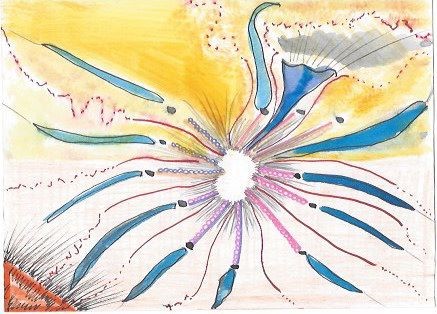 By co-creating with each other, we challenge ourselves to play and experiment. We challenge ourselves to step out of our comfortable habits and into places of unease. And when we are willing to do that, that's when the magic appears. Suddenly something new happens, both in the artwork itself as well as inside of us.
With each new co-creative artwork, we feel gratitude. We are impressed with the beauty of what has been created and we can feel the energy of the process. It's so great to be part of something completely new. This co-creative art process transcends borders, languages, and cultures and invites us to trust, to let go of attachments to "how we think it should be," and to accept the work of others without conditions.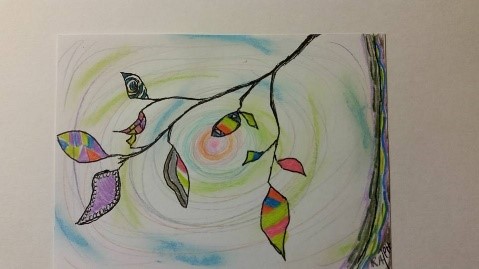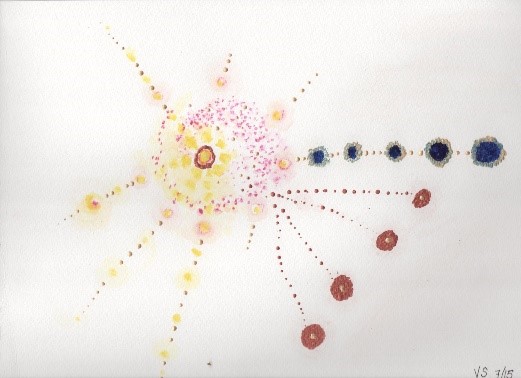 We are learning to work with an empty mind. In fact, the more empty our minds and the more we are able to work without our habitual filters, the more we are surprised by each other and by the co-creation that is evolving. When we can truly surrender to the process, we enter into an unknown universe. And in that space, we may even get to touch the mystery of creation – the mystery that connects us beyond words.
If you enjoyed this blog post and found it helpful or inspiring, please share it with your friends on social media by clicking on the icons below. You are also welcome to make a comment below. 
You may subscribe to our free weekly newsletter by clicking here.
Related Blog Posts