Note: Due to current international travel restrictions, we cannot be sure that this program will indeed take place in February 2021. We remain both hopeful and realistic. At the moment that any definitive decision is made, it will be posted here. Thank you for your understanding. In the meantime, there remains one place open in this small-group program.  
Life is full and fast. Many of us live in a whirlwind of responsibilities, opportunities, challenges, and relationships. And then came the coronavirus pandemic, bringing the world to its knees.
We do the best we can to keep up, yet sometimes we just need a break. There is a longing deep inside for stillness and quiet away from all that has held our attention, for time and space, for serenity and peace. Perhaps you can relate.
Join Alan Seale for four days in the magical tropical paradise known as Kantara. Kantara is an Arabic word meaning "bridge." As a child, Karen Montealegre, creator of this paradise, dreamed of that word, Kantara, having no idea what it meant. Yet she knew that someday she would have a place by that name.
Karen opens Kantara to Alan for the work of Transformational  Presence. She is our host for this four-day immersion experience, Enter the Silence: Hear the Wisdom of Your Soul, Rest in the Embrace of the Earth. Along with the horses and donkeys of Kantara, Karen also co-facilitates a part of your experience.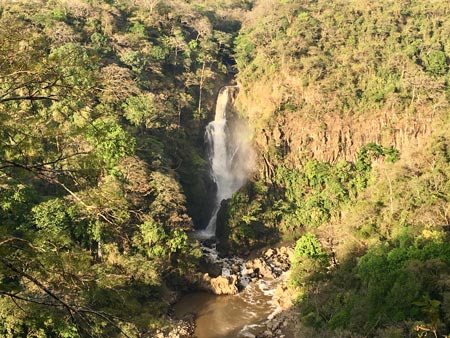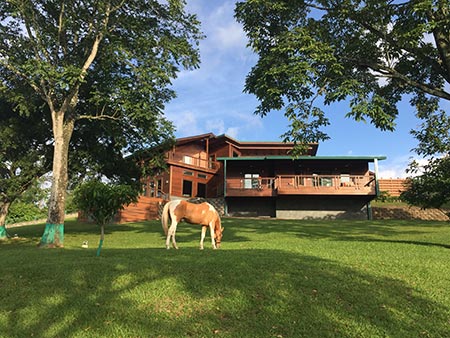 Where and When
Tuesday-Friday, February 2-5, 2021
Kantara Retreat Center near San José, Costa Rica
About Kantara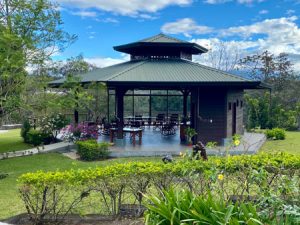 Kantara rests on the edge of a cliff overlooking a 120-meter waterfall and the Virilla River Canyon. It is near the town of Ciudad Colón and about 25 minutes west of the city of San José.  Within its six acres you will find the main house, a warm and welcoming open-plan timber frame structure; the Rancho, a round open-air workshop and gathering place; the Studio, a smaller workshop and meeting space; the horse stables; a large covered arena as well as an open corral; the labyrinth; a lookout point with impressive views of the river canyon and waterfall; and several acres of beautiful gardens.
Because Kantara is surrounded by protected rainforest areas, abundant wildlife—white-faced monkeys, coatis, ignuanas, several kinds of toucans, hummingbirds, and many other species of birds and mammals—can often be seen on the property. Kantara is also home to several horses, donkeys, dogs and cats.
Program Description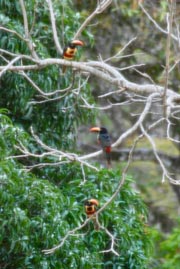 The Enter the Silence immersion experience is limited to six participants in order to ensure a sense of intimacy, stillness, quiet, and reflection, with ourselves and with one another. Our time together will alternate between exercises for discovery, extended periods of intentional silence, time with the land and the nature, and one-on-one time with Alan, Karen, and the horses.
Each period of intentional silence will be guided by a question, concept, discovery, or emerging insight. While Alan has loosely designed a structure for this program, the topics and questions that we work with will emerge from our group and personal exploration. In this way, our time together is somewhat customized for your individual journey as well as for the collective journey the collective journey that will unfold for us together.
Kantara has a way of bringing you the insights, awakening, healing and illumination you need for the next part of your work in the world. The intentional periods of silence are time for you to be on your own, or to have some one-on-one time with Alan, or to have a personal session with Karen and the horses. Each period of silence will be followed by time together as a group to share what is being discovered, what is shifting and transforming, and what new doors of possibility are opening.
Each participant will also have the opportunity for a personal session with Karen and the horses if desired. The horses of Kantara are amazing coaches, healers, and shamans. These one-on-one sessions with Karen and the horses are included in your registration fee.
Daily Schedule
Day 0 (Monday) — A 5:00 pm gathering at the hotel for a glass of wine or beverage of your choice so that we can begin getting to know one another.
Day 1 (Tuesday) — Car service pickup at 8:30 am at the hotel; retreat from 9 am until 6 pm followed by a light supper; return to the hotel about 7:30 pm.
Day 2 (Wednesday) — Car service pickup at 8:30 am at the hotel; retreat from 9 am until 6 pm; return to the hotel for the evening on your own.
Day 3 (Thursday) — Car service pickup at 8:30 am at the hotel; retreat from 9 am until 6 pm followed by a light supper; return to the hotel about 7:30 pm.
Day 4 (Friday) — Car service pickup at 8:30 am at the hotel; retreat from 9 am until approximately 3 pm, including a closing lunch. Car service back to the hotel is included in your registration fee. Participants departing for the airport or on to another venue can make their own arrangements. Karen is happy to assist.
Limited to 6 Participants
The Enter the Silence retreat is limited to six participants in order to ensure a sense of intimacy, stillness, quiet, and reflection, with ourselves and with one another.
Accommodations & Air Travel
Because Kantara is not a hotel, participants will stay at the Hotel Villa Los Candiles, a charming, small, locally run hotel about 20 minutes from Kantara in nearby Santa Ana. We have negotiated a reasonably-priced group rate for our participants with several room types available to choose from. Breakfast each morning is included in your hotel stay. Car service is provided each morning and evening to take you back and forth to Kantara. The warm and welcoming hotel staff are also very happy to help you in planning adventures to explore Costa Rica on your own before and/or after our days together.
Please note that the program fee does not include air travel or hotel. Participants are responsible for making their own hotel reservations. Tell the reservation clerk that you are with Karen Montealegre's group—Transformational Presence. Again, daily car service between the hotel and Kantara is included in your program fee.
Your air travel destination is San José International Airport. Taxis are available at the airport for transport to the hotel approximately 30 minutes away, depending on traffic at your time of arrival. Hotel Villa Los Candiles also offers an airport shuttle for your convenience.
Your Program Leaders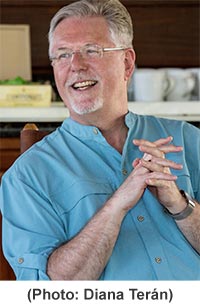 Alan Seale
Alan Seale is the founder and director of the Center for Transformational Presence, author of 7 books, including Transformational Presence: How To Make a Difference in a Rapidly Changing World, and the creator of the Transformational Presence work. He is recognized around the world as a master teacher, facilitator, and transformation catalyst, both in working with individuals as well as with organizations and teams. His greatest passion is personal transformation through expanding or awakening awareness. He currently supports individual and organizational clients from five continents. He has been a keynote presenter at two ICF Global conferences; at the ICF Latin America Leadership Congress in Santiago, Chile; and at regional conferences in the U.K., Sweden, Spain, and Romania.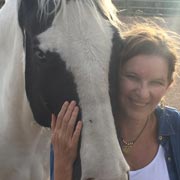 Karen Montealegre
Karen Montealegre is a certified EFL (Equine Facilitated Learning) Practitioner with Eponaquest International. Since 2013, she owns and runs her own EFL Center in Costa Rica, offering workshops and individual sessions for private clients. Karen is a graduate of the Transformational Presence Leadership and Coaching program. In her work, she includes concepts, tools and exercises from both EFL and Transformational Presence approaches to yield a much more profound and integrative experience for her clients.
Program Fees & Application
Your registration fee includes:
4-day immersion experience led by Alan with assistance from Karen and the horses of Kantara
A 45-minute personal session with Karen and the horses
4 healthy, fresh, gourmet mid-day meals plus 2 light suppers especially prepared to support our journey together
Coffee, tea, and snacks throughout the day
The Kantara Experience — time for inspiration and reflection; time with the horses and donkeys for those who wish; spontaneous interactions with other wildlife that may appear, such as monkeys, iguanas, and toucans, and with the energy and power of the giant Guanacaste trees (listening trees), the land, and the nature all around you.
Car service between Hotel Villa Los Candiles each morning and evening of the program.
The fee for this complete program is €2300 or $2500 USD. Payment may be in full, or in six installments of $435 each. Payment in full may be made via credit card in US dollars or through TransferWise in euros. Installment payments may be made via credit card only.
Apply via email with a short statement about what attracts you to this program at this time in your life.
Registration closes September 15, 2020.
Cancellation Policy
Cancellation before June 30, 2020—full refund less 10%
Cancellation between July 1 and September 30, 2020—full refund less 50%. If your place is filled by a waiting list participant, full refund less 10%.
Cancellation after October 1, 2020—no refund. If your place is filled by a waiting list participant, full refund less 10%.