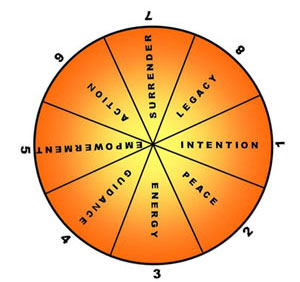 Both ancient wisdom traditions and modern-day quantum physics tell us that everything is made up of vibrating energy. You, your thoughts, choices, habits, and practices, as well as your work, your relationships, and the organizations you are a part of — at their essence, they are all energy in motion. When we relate to life as energy in motion and partner with the laws of energy for creation and manifestation, extraordinary things can happen.
Manifestation is the art of aligning potential, intention, thought, belief, commitment, decision, and action to achieve and sustain the greatest possible result. It's an inner process of transformation coupled with outer action and achievement. Inspired by the ancient Lakota Medicine Wheel and grounded in modern-day quantum physics, Alan has created the Manifestation Wheel, a dynamic and synergistic system for accomplishing goals, turning dreams into reality, visioning, decision-making, and facilitating breakthroughs.
8-Session Zoom Workshop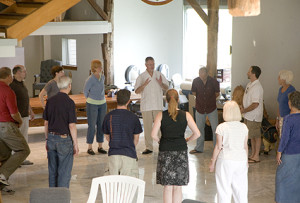 Zoom Workshop: 
The Manifestation Wheel
8 2-hour Class Sessions
8-16 participants
8 Thursdays in 2021
March 11, 18, 25; April 1, 8, 15, 22, 29
10 am-12 pm ET / 7-9 am PT / 16-18 CET
This is the last time Alan will lead this course. 
Join Alan for 8 2-hour class sessions on Zoom and bring your vision or project to life. 
Through this Zoom 8-week workshop, you will:
Establish clear intention and focus about what you want to accomplish, and then learn how to create the optimal conditions for manifestation to occur
Resolve inner conflicts and break through resistance
Generate momentum for your project
Create conditions in which synergy and synchronicity thrive
Access your intuitive mind for greater wisdom and perspective
Create a highly effective action plan
Leave the workshop well on your way to manifesting your vision or accomplishing your goal
Join us for this dynamic and transformational workshop and learn how to make manifestation a natural part of your life and/or organization.
Program Fee includes: full live virtual course with Alan; Manifestation Wheel Workbook and class recordings in the Transformational Presence Learning Center
$895 USD  
Cancellation Policy:
Cancellation before January 11, 2021—full refund less 10%
Cancellation between January 12 and February 11, 2021—full refund less 50% 
Cancellation after February 12, 2021—no refund
Limited partial scholarship support is available for those who have lost significant income, are experiencing financial hardship, or live in a country where the local currency is very low against the U.S. dollar, and truly need financial help at this time. Email to request a conversation.
Book: The Manifestation Wheel
Audio Course
Super Six Coaching Package