It was daybreak on a clear July morning. I was up early with my camera to take advantage of the early morning light on the shores of Chautauqua Lake in Western New York. I had taken a few shots of the eastern shore horizon where the sun was just about to pop, but then was seduced by the golden light on the grand old Chautauqua lakefront houses behind me. I got so lost in that beautiful light that, for a moment, I forgot about the sunrise itself. I was busy focusing on the "effects" and had forgotten about the "source."
Then suddenly something told me to turn around. And this is what I saw.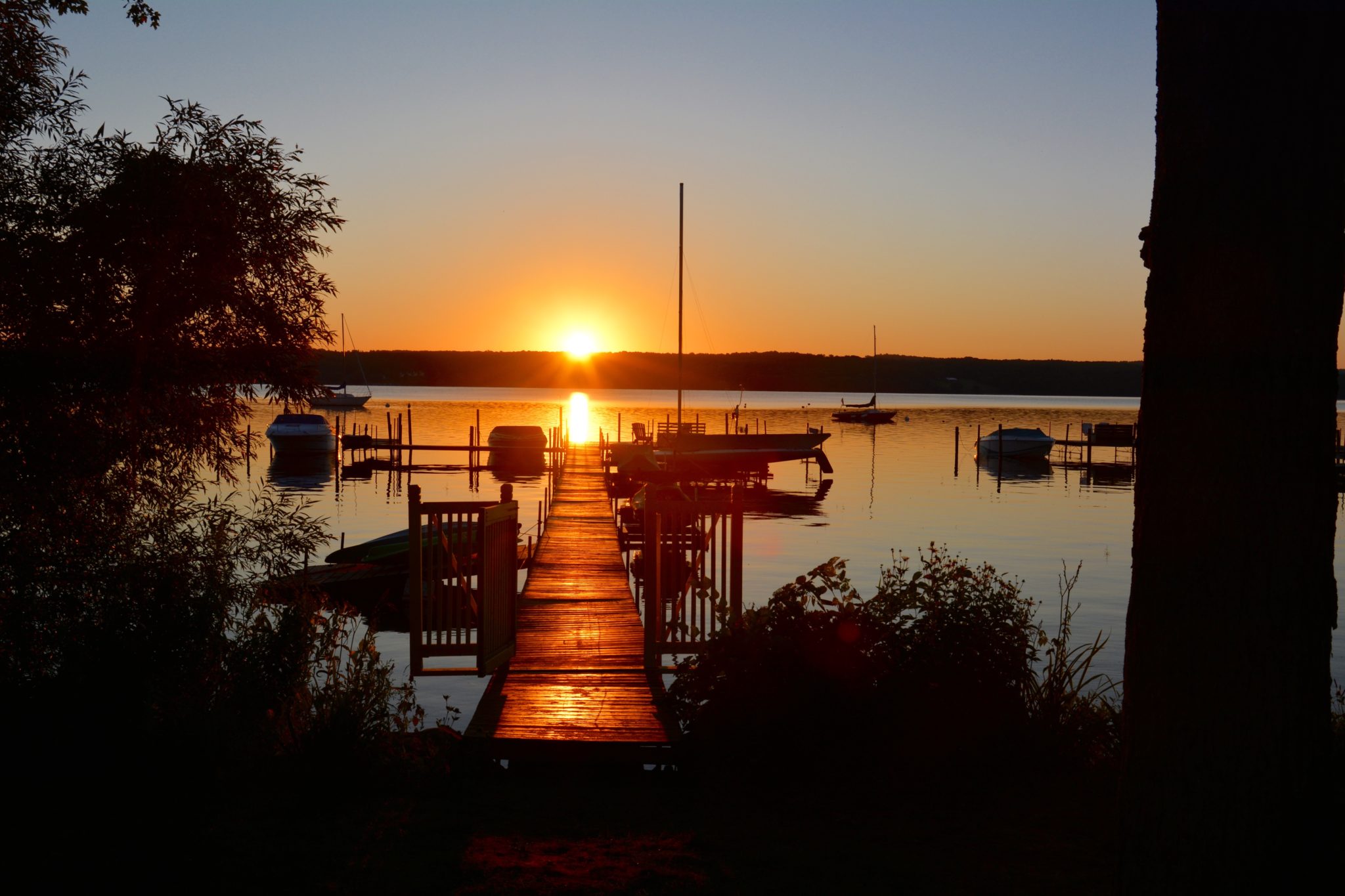 For a moment, I forgot that the reason I was out so early was to take pictures. I just stood there in awe of this golden runway of light created by the dazzling orange ball that was rising over the horizon.
Thankfully, I soon remembered to pick up the camera again, for this moment in time would not last. The sun would continue to rise and no longer shoot down that dock in the same powerful way. Indeed, within a few minutes, the light did shift and the moment was gone. And very soon after that, the soft glow of early morning sunlight had turned to the bright light of day. I put my camera away and continued walking for another hour, reflecting on what I had just experienced.
I started thinking about how easy it is to get so focused on one thing that we miss something else so magical that is right there at the same time. I thought about how often we search and search for a path and almost give up. And then something tells us to turn around at just the right moment, and there it is – the path is illuminated. I thought about those times when an unexpected opportunity comes or a portal opens, and we know we have to walk through it right then. A feeling deep inside tells us, "Do it now," because the portal will soon vanish.
That exquisite moment on Chautauqua Lake back in July is forever etched in my memory. Actually, better said, it's etched in my being. It reminded me that there is a pathway directly to the light – directly to the source of who I am and why I'm here. My job is to stay on that path. It's always there, even when it is not so brilliantly lit. That runway of light was a reminder that there is always a portal available to another level of awareness.
You've probably experienced powerful moments like this, too – moments that catch you by surprise and take your breath away. Moments that remind you of something that might easily slip away and be lost if you don't pay attention. Before you rush off from reading this article, take a few moments to reflect on one of those times. What might be important for you to remember about that experience today?
If you enjoyed this blog post and found it helpful or inspiring, please share it with your friends on social media by clicking on the icons below. You are also welcome to make a comment below. You may subscribe to our free weekly newsletter by clicking here.
Related Blog Posts: